The State of DesignOps
Excitement
Coming off the DesignOps Summit always fills me with excitement for a brighter future for design. Having been facilitating and participating in the DesignOps summit for the past few years, seeing more and more people getting into the designops fills me with joy.
DesignOps as a practice has existed for as long as "design discipline" existed. There is always someone doing the operation tasks, maybe a designer, a project manager, or a producer. However, designops as a discipline has been very new, credited to David Malouf, who has been spreading the knowledge and founding member of the DesignOps Summit. Where are we now?
According to the State of DesignOps 2021 research report presented by Angelos Arnis, over 200 professionals worldwide participated in this research. It is definitely the most significant number we've seen in the past few years. However, most participants are U.S. (53%) or European (21%) based, which tells me that a lot of work needs to be done in promoting designops partnership.
For many reasons discussed previously, designops professionals tend to be more experienced and highly educated. The report demonstrated this finding. But what excites me is the growing number of young professionals getting into the designops field. It is a strong indicator of the establishment of designops as a discipline. DesignOps as a discipline is now mature enough to train and facilitate junior members.
Improvement year to year
It is very timely that Amy Márquez posted this blurb on LinkedIn around the same time DesignOps Summit is on stage.
It is exciting to see that more organizations embrace the DesignOps practice, especially in the tech enterprise space. And designops leaders and practitioners dedicate their time to this field.
Tech enterprise leads the way to incorporate formal design operations. Many designops leaders are able to demonstrate the value of designops practice.
32% of the (200+) participants identify that 100% of their job involves designops.
Many practitioners established the designops in their org in fewer than two years, which contributed to the fact that the practice of designops became popular, mainstream. The timing could not be better. My assumption is that because most designops practitioners are more experienced senior leaders in the field, we saw the needs and were able to achieve this goal in a very short amount of time.
46% reported that they created the designops practice in one to two years. (Hopeful sign of how fast a designops leader can establish a formal designops practice once leadership is convinced.)
Designops practitioners are heavily involved in strategy and planning
DesignOps is a strong advocate for hiring DEI initiatives.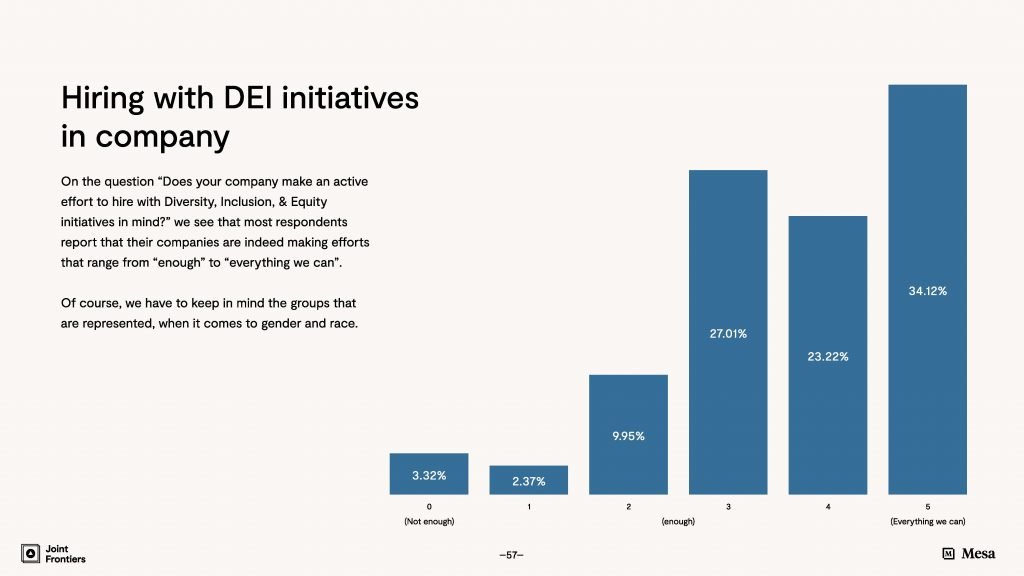 Gaps

We are very excited that designops has become more mainstream; we are even more proud that designops was able to help the growth of overall design practice. There are gaps.
DesignOps is still a very young practice with a handful of professionals in this field officially. Yet, with all the excitement and growing number of practitioners, most companies still struggle to understand designops. As a result, most designops practice is designops team of one. It is still a struggle to articulate the importance of building a designops org within the design function; as a result, the extreme ratio of designops to design in some organizations is around 1: 130.
As a general discussion, we still see a tremendous struggle for cross-functional collaboration, which Jon Fukuda had written extensively about how designops can facilitate and contribute to improvement in his blog "What's Still Missing from DesignOps". This effort falls into change management. We do know how challenging it is. With so many areas to focus, and so many practical tasks designops practitioners need to address, facilitating this conversation took a backseat role.
Looking forward

We, as designops practitioners, still have a lot of work to do. Likewise, as designops leaders, we still have a long way to go to define the field. Yet, there is no better time to join this profession, and it is highly satisfying.
Join the designops professions— it is a highly satisfying job.
There is no other field I'd rather be in, and there is no other work I'd rather be doing at this moment.